I took the kids to Warner Bros. Studio in LA last week.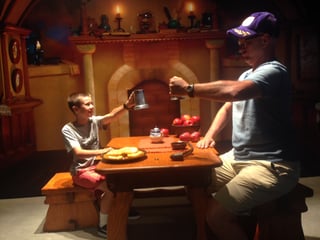 We wandered through the maze of movie sets – buildings and towns and parks and jungles – and marvelled at the famous stories that have been filmed here.
And it got me thinking about storytelling.
But before I continue, let me show you two photos of me and my son at Warner Bros. These pictures were taken without trick photography or funny lenses or anything like that.
As you can see, I look big and Reuben looks small in one photo, and vice versa in the other. It's all done through different perspectives, props, distance from the subject, and framing of the photo.
Same people. But different framing, and an emphasis on different elements.
As I said, it got me thinking about telling a good fundraising story.
A good story emphasizes certain elements to bring them into sharp focus. It paints a picture that is fresh, interesting, and unexpected. And it helps your donors see something they wouldn't normally see … something that motivates them to give.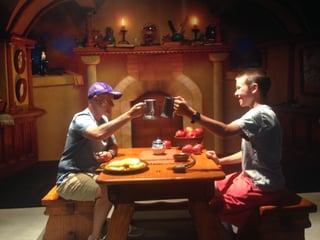 I want to be clear that I'm not talking about making things up. I'm talking about the art of seeing differently.
If you can find the gems and jewels in your material – themes that can be polished – then you can create an engaging story. You'll help your donors, too. They won't have to sort through all the details to get the point of what you're saying.
For example, if you tell a story about providing clean water in a developing country, you don't have to give all the administrative details about digging wells and installing pipelines.
You can frame your story instead – through the eyes of one child, perhaps. Tell about the difference clean water makes for that girl or boy.
Pick one theme to emphasize. No more constant stomach aches from drinking dirty water? No more sore necks from balancing a pail of water on your head? No more fear of snakebites on the long walk to the pond? No more being late for class each morning? More time to play with friends and enjoy being a kid?
Frame your material, pick your theme, and polish it. You will create a story that catches your reader's interest. Take it from me – or rather, take it from Hollywood.