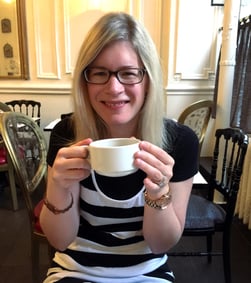 Just as the stories of your beneficiaries inspire and educate your donors, we think the stories of fellow fundraisers can inspire you.
In this "Meet a Do-Gooder" feature, we talked with Melissa Stillman, Associate Director of Development, at Wycliffe Bible Translators. Find out how her passion for writing drove the trajectory of her career, and learn what advice she would give her younger self.
Q: How did you get your start at Wycliffe Bible Translators?
A: My future mother-in-law worked at Wycliffe in the Human Resources department. At the time, I was nearing graduation from the University of Central Florida and was looking for an internship. All I can really say is that God drew me here that first summer.
Q: Was there anything in particular that drew you to the organization?
A: I thought it was amazing that I could actually use my marketing degree to support Bible translation. I grew up in a Southern Baptist church and planned to take part in missions through praying and giving. I didn't think there was a way to use my gifts and education for missions. I was very surprised to learn that Wycliffe needed people with my skillset.
Q: Can you describe the trajectory of your career in the organization?
A: After that first summer at Wycliffe, I interviewed with the Advancement department and started working full-time with the organization. In the beginning, my role was to call and thank Wycliffe donors.
The marketing part of my career really took off when our Vice President for Advancement asked me to write a donor letter about an upcoming vision trip. I love to write, especially personal letters, so I really enjoyed that assignment. After that, I was added to our department's marketing team. In 2005, we launched our direct mail program, which I worked on for 10 years. Then I was promoted to help with the broader marketing of our development program. About two years ago I took on my current role as the Associate Director of Development. Altogether I've been with Wycliffe for 16 years.
Q: What are your current responsibilities?
A: In my current role, I get to manage special projects and provide strategic marketing direction for development and our gift-planning program.
Q: Can you give an example of one program that you're truly passionate about?
A: Well one campaign I love working on every year is our gift catalogue. It goes out in October and it's really a passion project for our department because we feature anywhere from a dozen to 20 projects. We start working on the catalogue early in the summer and try to make it a lot of fun. We gather some decorations for Christmas and drink some hot cocoa. Usually several of us write the catalogue copy together. It's so rewarding to see it come alive. This year we produced an ornament to go in the catalogue, which we promoted across digital, social and an in-house call campaign.
Q: Can you describe a couple of your contributions to Wycliffe?
A: The longer that I'm here, the more I see my contributions to the vision of Wycliffe. Every fall the new statistics come out and staff see how many language communities have received God's Word for the first time. That's when you really feel like what you do matters.
Another thing I've recently identified was how much I really enjoyed mentoring—especially young women who are coming into the workforce. I've had the privilege of working with several staff people, interns, and volunteers. Just helping them in their journey and helping them figure out where God wants them to serve is a rewarding opportunity.
Q: Can you describe some memorable moments at Wycliffe?
A: I'd say the first moment was when I visited a Wycliffe project in Guatemala and had the chance to witness a translation team at work. That was an amazing experience, as it was my first year with the organization, and I hadn't really travelled internationally. It made the task real for me and it was just so wonderful to see the work in progress. The translator wanted the Word of God so badly, and he sacrificed so much for the community.
I would say the second moment was when we received a major gift to fund an entire translation project in a country that I really cared about, personally. We found out that the gift came from a couple who had been living on one person's salary and saving the other's. They saw our catalogue in the mail, the Lord spoke to them, and they gave to the project. It was a moment that had been in the making for years, and I had the privilege to play a small part in it.
Q: What motivates you at work?
A: Using my gifts to glorify God is so motivating and it sets this kind of work apart from other jobs I could have. I get to tell the story of donors and to see the bigger picture of how God uses his people to do his work.
Q: Do you have tips for individuals in the non-profit industry?
A: Since the non-profit I'm in is a ministry, my advice is to remember to pray. I need to remind myself daily that we have to draw on the Lord's power in our work, and at home. I think it's the foundation of all that we do as an organization, but it should also be the foundation as individuals and a team.
I would also say that, no matter the sector of non-profit that you're in, you have to remember balance—balance your work with self-care. Budgets are always tight, timelines are always tight, but you have to find a way to do your very best and then call it a day. You have to take care of yourself and your team so you can do it for the long haul.
Q: If you could go back in time, what would you say to yourself prior to embarking on your career?
A: I'm great at telling other people's stories, but I haven't been as good at recording my own journey. So I would tell myself to journal. After 16 years on the job, it's easy to forget details from the beginning.
I'd also encourage myself to start freelancing sooner. Over the years, I've freelanced for a local magazine and our church. I found my freelance writing was helpful in honing my interview skills, which gave me confidence that I could use in my work at Wycliffe.
Lastly, I think goal setting is important—especially interim goals to remind yourself of things you want to learn, experience, and grow in.
Q: When you take time off, where do you go and what do you enjoy doing?
A: My husband, Joe, and I love to travel—whether it's just a weekend in a nearby town or going to Europe. When we're at home, we love to thrift shop, scour flea markets, or go to garage sales looking for treasures. We love food and we spend a lot of time trying new restaurants or cooking at home (Joe is a great cook). When I have down time, I love reading with a cup of coffee in hand, doing yoga, or spending time with friends and family.