I was fortunate enough to spend about six years of my fundraising career at World Vision, one of the largest global relief organizations in the world. During my time there, our team oversaw the gift catalog program. Back in 2006, gift catalogs were just becoming a popular way to raise money (much thanks to the efforts of Heifer International).
One of the benefits of working for a large NGO is that you have the resources and budget to test and fail on the path to a successful campaign. My goal is to help you avoid having to learn some of those hard-found lessons on your own by sharing what I've learned.
Over the years, I've seen a wide variety of gift catalogs. One of the biggest issues I've found with our clients is that they give their gift catalog just enough effort to keep it alive, but not nearly as much as is needed to maximize the profitability.
It isn't until the charity organization as a whole recognizes that a gift catalog is a program, and not simply a group of products, that a gift catalog can make the largest impact on revenue.
What's the difference between a program and a product approach?
I'm glad you asked.
A product could be referred to as an offer, such as drilling a well, providing emergency food, or getting vaccines to children.
A program is a multi-channel effort that touches every part of the organization from finance to marketing. It has a synergistic focus for the organization during key times of the year (such as the holiday season) and has appropriate resources dedicated towards growth.
So what? Why should my organization even have a gift catalog program?
Consider this. Charitable giving in the United States has been stuck around 2.1% of GDP for years. While the total dollars increase, that number is flat when adjusted for inflation. On the other hand, holiday shopping accounts for 3.4% of US GDP, with a projected 5% increase in spending for 2018.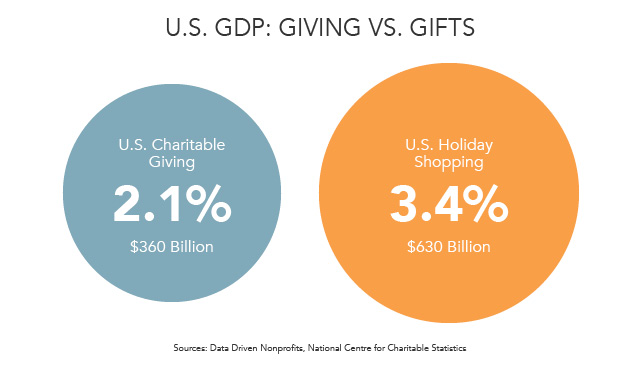 If you can truly create a gift-giving experience, your nonprofit organization can dip into that portion of your donor's wallet by solving the age-old problem: What do you get Aunt Debbie for Christmas this year?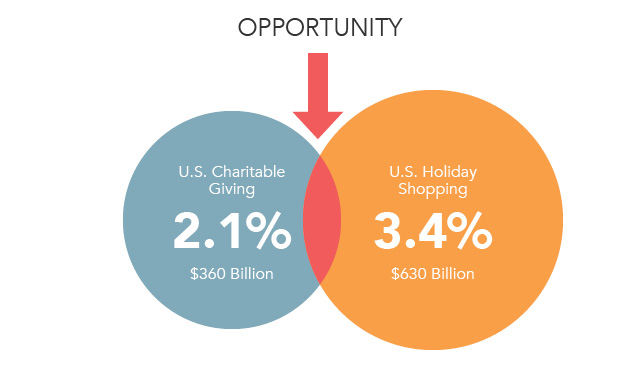 One of the most fulfilling parts of my fundraising career was seeing the World Vision gift catalog grow by over 300% in a five-year period by taking advantage of this opportunity. I'm sure you'd like to see some growth with your approach! Let me share three key lessons with you to help you optimize your charity gift catalog.
Lesson #1: Don't treat the gift catalog like a direct mail appeal
Like it or not, your mailbox will start filling up with catalogs starting in October. While larger retailers have reduced circulation and become more strategic, there is no denying that these print catalogs are driving revenue.
The next time you receive a gift catalog in the mail, pay special attention to the cover. A good catalog has a singular focus with a clear image featuring a top product. You can't help but notice it as you take it from your mailbox.
So why would you hide that beautiful image inside an envelope?
There are very rare exceptions, but as a general rule you should never put your catalog in an envelope. In addition to adding print costs, you are devaluing the shopping experience.
Notice I said shopping, and not donating, experience. A direct mail appeal requires a clear and concise call to action with a singular focus. You need the donor to do that one thing.
A charitable gift catalog is different. We browse through items, set it on the coffee table, and come back to it later. Some families gather together and circle the items they want to give to friends and family members, making it a teaching experience. While you still need to grab the reader's attention, they might pick up and put down the catalog several times before making a purchasing decision.
Stay tuned for the next two gift catalog lessons in our upcoming blog posts.
Reference:
https://news.gallup.com/poll/186620/americans-plan-spending-lot-christmas.aspx