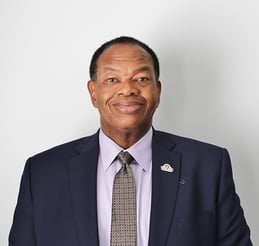 Just as the stories of your beneficiaries inspire and educate your donors, we think the stories of fellow fundraisers can inspire you.
In this "Meet a Do-Gooder" feature, we talked with Garvin Maffett, Chief Advancement Officer at Patrick Family Services. Find out how he took a crash-course in relationships fundraising for Yale University, and what the top three qualities he looks for when hiring fundraisers.

Q: What does a current day in the office look like for you?
Garvin: I'm a morning person so I get up early to connect with my team first thing in the morning. Greeting them one on one, finding out how they're doing that day, and just getting a vibe from them before actually jumping into the work headspace.
Q: What morning routine helps to set you up for success each day?
Garvin: I like to start off with a 20-minute coffee devotional, then workout for about an hour before going to work. That way if I'm meeting with financial partners or participating in a community service project in the evening, I feel as though I've already had 'me' time; I've already taken care of myself. And self-care is very important. Taking care of the mind, the body, and the overall health.
Q: Garvin, you've had a long history working in the education nonprofit sector. What's different about your role now at Patrick Henry?
Garvin: I can see the immediate impact — not only with what I do, but with any of us in our organization on a daily basis. As an example, we provide residential care as well as counseling for children. Usually ages five months all the way up to age 21. We have actually hosted two children right after they were born in the hospital. One day, I left work around 5:30, and came downstairs to go to the parking lot. I saw one of our staff members who works in our Safe Families program and I said to her, "Sheree, are you working late tonight?" She just said, "Well, I'm on my way to the hospital because we're hosting a child that was born this past week."
Q: What drew you to Patrick Henry Family Services?
Garvin: I had a desire to connect with a faith-based organization. And I was very interested in Patrick Henry Family Services because it's a Christian alternative to state foster care. I was able to really see the direct impact of the work on people's lives, which was more immediate than in the education sector.
Q: At Patrick Henry Family Services, what project or idea are you working on right now that is most exciting?
Garvin: I'm very excited about the digital space. We have made a lot of progress recently in this area, but there's so much more opportunity. So I'm very excited about that. Also, we are publishing an annual outlook for the first time. A lot of organizations have a traditional annual report, but what we're doing is a publication that's very forward thinking, and we're calling it an annual outlook. It's not going to have financial statements, but it's going to show impact. It's going to have legacy stories. It's going to really show our key stakeholders why they should continue to partner with us or walk alongside us, and how they will see a tremendous return and impact from their generosity.
Q: Your first position was at Yale University. That is quite a prestigious organization to start your career with. What was it like?
Garvin: I started with Yale University as associate director for major gifts. It was a once-in-a-lifetime experience. I was one of only seven staff members that were responsible for raising major gifts for the entire university. We saw each other every day unless we were out on the road. We could have coffee together and strategize, we could share war stories, we could talk about what worked — it was an immersion in how to build relationships.
Q: How did your approach to fundraising in that role differ from your current approach?
Garvin: Well, the advantages that colleges and university have are that you know who your alumni are and, in most cases, where they are. Although, because many of these alumni were very prominent in their own communities, they could make the gifts in their own community and get a lot more recognition. And that same gift can make an impact in so many other organizations for so many other causes. All of those organizations and all of those causes are very worthy, and are deserving of that donor's support.
I'll give you an example. There was a potential donor whose son was a Yale University student. Her son graduated at an early age but died suddenly at age 25. I was asking her to consider a gift of $250,000, which she had the capacity to do, as a way of remembering her son. I shared with her how her gift would be used for scholarships for students interested in economics. She took me on a tour of her community — we drove around and she took me to the hospital there. She said, "Garvin, the hospital wants me to make a gift." And I'm thinking, the $250,000 that we're asking her for could build an entire cancer wing at this hospital. It would not be the first scholarship of $250,000 at Yale and it would not be the last one, but that would've been the first cancer wing at a general hospital in that community.
Q: What are the top three qualities for successful fundraisers to have?
Garvin: Three qualities our senior leadership team looks for in the candidate are that they be humble, hungry, and smart. Humble. How do they view themselves and how do they view themselves among other people? Hungry. Do they really want to be here in our ministry and our type of work? Or are they just looking for a job? And smart. Smart is not just intellectual capability, but how effective they are in working with people. Do they know how to get along and influence, inspire? Are they able to listen and receive coaching?
Q: What three challenges are you seeing fundraisers dealing with in today's environment?
Garvin: Expectations. And that has not changed over the years. Some are more realistic than others. But if you agree to work for that organization you have to deliver. The second one would be prioritizing. Regardless of your position, whether you're a frontline fundraising director, or director of marketing, you need to know how much time should be spent on each different project or activity. The third challenge: When do you say no? We're in a business where people think you have to say yes all the time and that's not true. I'd rather have my staff select the projects that they can be most effective at. Other people or other outside partners can do the rest.
Q: What are three pieces of advice you have for fundraisers looking to advance their careers?
Garvin: The first two pieces of advice are to be a lifelong learner and treat everybody the same. Listen to any coaching or feedback anyone gives you and don't take it personally. We can learn from everyone and anyone. A lot of times we think we should only listen to someone who is higher than us in the organization. That is so far from the truth. Being able to just take feedback, not take it personally, and see what you can learn from every situation is so important. And the third thing that I would say is don't overextend your welcome. I see many colleagues who have stayed at their given place of employment too long. You need to know when it's time to stay and when it's time to move on. Its like surfing. And if you don't catch that wave, sometimes you'll fall off the board.