By Pete Ward, Senior Director, Client Insights
Donor centricity, as the term suggests, places the donor at the very centre of an organization and everything they do. For some organizations, this proves to be a significant shift in thinking. No longer is the focus on viewing supporters as merely sources of funds; instead the focus is on the donors' needs and tailoring unique experiences that strengthens their connection to the organization's cause.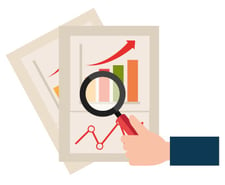 This shift in thinking is necessary, as it is much more cost effective to retain an existing donor than obtain a new one. As a result, organizations are redoubling their efforts to increase the long-term giving of their existing supporters by taking a donor centric approach to their fundraising (using information gleaned from their database). Donor centric metrics are critical for measuring what donors value, building their affinity to the organization and helping the organization meet its growth targets.
Here are our top 6 reasons why donor centric analysis is essential for your revenue growth.
1. Creating a holistic donor experience that helps your bottom line
Different donors have different interests and affinities for each organization. Consequently, it's critical to connect donors to your cause in a way they want to be connected. Instead of subjecting them to a hodgepodge of fundraising tactics that appear unrelated to each other, they should be receiving a thoughtful, personalized donor experience that builds affinity and giving levels. For example, a donor's first gift is an important predictor of subsequent behaviour – the program supported; the promotion channel used to motivate giving; the channel used to make the donation; the time of year; the amount given. A tailored donor onboarding experience based on this data can yield higher second gift conversion rates and long-term value.
2. Placing donors in the right portfolio
Not all donors have the same capacity to give. It's important for organizations to use data to effectively identify the giving potential of each individual. In this way, organizations can decide which donors have the ability to increase their giving, who should be moved up the giving pyramid, and what practices need to be in place to seamlessly and proactively migrate them to middle level or major donor giving portfolios.
3. Investing the right amount for each donor
Related to the previous two points—with different donors with different affinities and capacities to give—an organization needs to determine how much they're prepared to invest to cultivate a high-value donor versus a low-value donor. Fundraisers are responsible for ensuring donor gifts go as far as possible; they have limited resources and must be good stewards of what donors have entrusted them.
4. Proactively managing the donor life cycle
With a donor centric approach there are key moments in the donor lifecycle:
new donor onboarding and conversion to a second gift
pre-renewal and donor lapsing reactivation
Having donor centric metrics helps the organization assess how well they are managing donors through these critical times in the lifecycle. For example, we've seen organizations where only 5% of their donors will give again when they're beyond 12 months since their last gift. This is too low. A timely, personal and relevant thank you followed by an anniversary ask can significantly lift donor renewal rates.
5. Connecting with donor segmentation and event-based communications
Connecting donor centric metrics to donor segmentation and event-based communications (i.e., outreach in response to donor's behaviour or non-behaviour) ensures that the right group of donors are getting the right touch at the right time. The metrics help to assess the value of the more tailored communications on their contribution to overall revenue growth and ROI.
6. Measuring your donor engagement performance against other organizations
Blue North is working with a range of organizations to establish benchmarks. By analyzing donor data, we can identify areas that are going well, where there is opportunity for improvement, and the impact on the bottom line. One of the clearest benchmark indicators of a healthy donor file is a growing pool of active, multi-year donors (i.e., given more two or more years in a row). When we see this pool decline, it's usually for one of three reasons: either their annual renewal rates are too low; not enough new donors are being added into the funnel; or not enough of these donors are converted to ongoing giving.
Donor centric metrics complement fundraising programs by measuring the value, loyalty and giving behaviour of donors typically within meaningful donor segments or portfolios (e.g., middle donors, new donors by acquisition source, etc.). Drilling deep into your donor database and pulling substantial information can help direct your fundraising initiatives.
At Blue North, we have the ability to leverage over 15 years of information garnered from nonprofits located in Canada and around the globe. Find out more about how we can help you with a donor centric approach to your fundraising.