I'm fresh out of the AFP (Association of Fundraising Professionals) Congress in Toronto and my biggest takeaway is ketchup.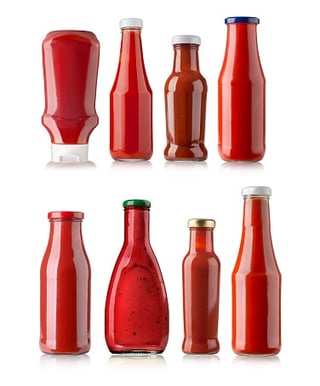 Both keynote speakers (Dan Pallotta, author, entrepreneur, and owner of Boston-based Advertising for Humanity) and Ron Tite (CEO of The Tite Group, a Toronto agency specializing in branding and content marketing) went to great lengths to talk about it. That, and I love ketchup – I've always said French fries are really just ketchup holders.
Here's how Dan and Ron's stories went. . .
The next time you pick up a ketchup bottle, take a good look at it.
Remember when ketchup came in glass bottles? You had to shake the bottle, hard. The ketchup flew out in globs and spattered your hot dog and your shirt. When the bottle was nearly empty, you had to stick a knife inside to scoop out the remaining ketchup.
Not good.
Then someone had a bright idea: What about a plastic, squeezable ketchup container? It could sit on its cap, collecting the ketchup at the bottom, so you never had to shake. It could have a small opening that prevented messy globs.
It was a brilliant redesign – and it all came out of looking at the consumer pain points and rethinking a product accordingly.
As fundraisers and nonprofits, we can learn a lot from this. We can rethink what we do, based on our donors' pain points. We can change what we're doing so we give our donors a better experience. We can boldly go beyond the "glass bottle."
Dan and Ron told the AFP audience: Don't assume the way you've always done it is the only way to do it. Go to where your donors are – get to know them, and their expectations and frustrations.
I was encouraged to see how their thinking aligns with what we're doing at Blue North.
We use tools like data intelligence, predictive modelling and trends analysis to help our clients find out what their donors really want. We help our clients re-examine their giving offers and programs. Our goal is to help our clients give their donors an immersive, life-giving experience, one that compels them to give in return.
That ketchup bottle reminds us: It's time to stop doing what's not working.
It's time to find out what our donors are looking for – and start doing that instead.